Home
› Coatings/Paints › Industrial Coatings

We provide customized industrial coatings to many clients in industries such as steel fabrication, refurbished mine & mill machinery, steel beams, cranes, machine parts, propane gas tanks, refuse dumpsters, industrial equipment, contract commercial painters and lumber mills. Our expertise is in low VOC water reducible acrylics, quick dry alkyd topcoats and primers, rust inhibitive alkyd coatings, long oil alkyd topcoats and many other specialty coatings designed to meet a customer's specific needs.

All of our Industrial Coatings can be supplied in 5 gallon pails, 55 gallon drums or 275 gallon totes. Each batch is made to order to meet your specific needs and requires a minimum of 36 pails, 4 drums or 1 tote. We can also match your specific custom color needs.
Quick Dry Alkyd Topcoats and Primer
Quick Dry Rust Inhibitive Primers
Quick Dry Shop Coat Primer - Medium Gray
Quick Dry Shop Coat Primer - Red
Premium Rust Inhibitive Quick Dry Primer- Medium Gray
Premium Rust Inhibitive Quick Dry Primer - Red Oxide
Specialty Primers and Topcoats
Stain Block Primer – White
Heat Resistant Primer - Red
High Gloss Quick Dry Enamel – Hi-Hiding White
Rust Stop Long Oil Alkyd Direct to Metal Topcoats
Alkyd Rust Stop – Safety Yellow
Alkyd Rust Stop – Glossy Tang Red
Alkyd Rust Stop – Glossy Royal Blue
Alkyd Rust Stop – Black
Alkyd Rust Stop – White
Waterborne Acrylic Urethane Topcoats
Alkyd Tinners Red
Formulated as a rust protective finish for metal surfaces to reduce the high cost of exterior finishing and maintenance while retaining excellent protective and beautifying qualities. They are well suited for all exterior metal surfaces where an initial gloss is desired but will dull to a patina over time while still maintaining good durability and weatherability. Metal gutters, metal roofs, fences, railings and decorative exterior metals and structural iron works are a few of its many uses.
Alkyd Tinners Red is available in cases of 2 single gallon cans.
Water Reducible Enamels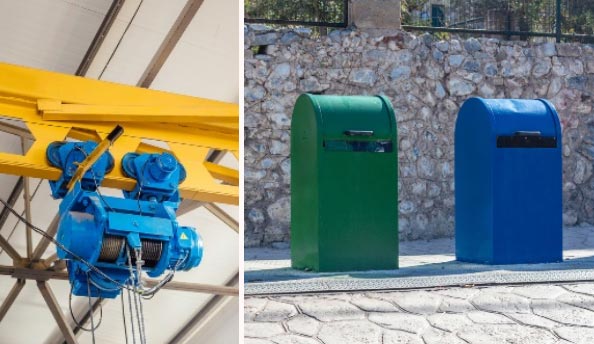 We manufacture a number of water reducible quick dry colors that can be used in dip tanks or spray applied. Typical shelf life of water reducible coatings is 6 months. Our water reducible enamels are great for pipes, fence posts, tools, water grates, gas meters, hammer heads, machine parts and many other uses.
Water Reducible Enamels
Quick Dry Water Reducible SPRAY Enamels
Quick Dry WR Enamel - Black
WR QD High Gloss Enamel - Gray
WR QD High Gloss Enamel – Orange
WR QD High Gloss Enamel - Brown
Quick Dry Water Reducible DIP Enamels
WR QD Dip Enamel - Red
WR QD Dip Enamel - Green
© 2022 ChemMasters, Inc.
Silencure, Polyseal, Traz, Aquanil, Spall Guard, Chemisil, EZ Strip Cure, SafeSeal, Spray Film, DuraShield SRT, Slip Stop and Exposee are trademarks of ChemMasters, Inc. ChemMasters and Safe-Cure are registered trademarks of ChemMasters, Inc.


300 Edwards Street, Madison, Ohio 44057
Phone 440.428.2105 - 800.486.7866
Fax 440.428.7091